The Fluid Control Module Used on The New Type 5-Part-Diff Auto Hematology Analyzer
With the miniaturization of the 5-Part-Diff Auto Hematology Analyzer, the customer's task is how to integrate the syringe pump, solenoid valve, and reagent vessel in a small space.
Based multi-connect substrate as a core, and make it closely connected to syringe pumps, thin type piezoelectric pumps, solenoid valves, and reagent vessels,this greatly reduces the internal volume of the measuring section, also improves the accuracy of the test, and reduces the consumption of specimens and reagents.
​
This achieves the overall minimization of the module.Compared to the conventional tubing design, we reduced the entire unit size to about 2/3.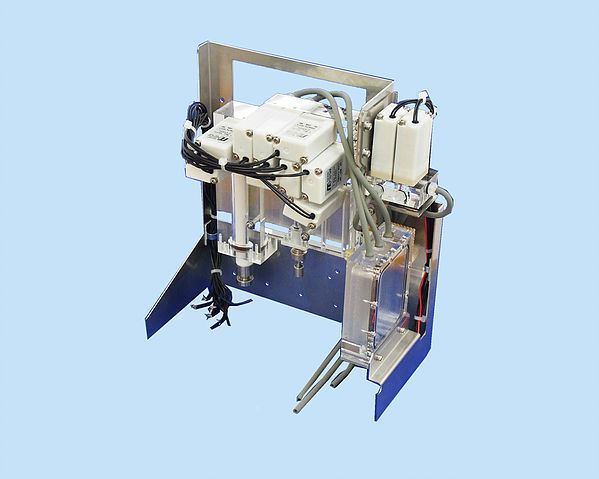 The High Temperature and High Pressure Solenoid Valve Used on Water Analyzer
When the highly corrosive fluid (sulfuric acid, potassium chromate, etc.) and the sample water are heated at a high temperature, there is a problem that the reaction liquid has a counterflow because of the high pressure in the reaction vessel.
In response to this problem, we Takasago have developed a "high-temperature and high-pressure solenoid valve" with a fluid-resistant temperature of 175 °C, a pressure resistance of 1500 kPa, and high corrosion resistance, which solves the counterflow problem caused by the high-temperature heating reaction.